I have been looking at the daunting list of pronouns to remember this year. It's nothing short of intimidating! To help give a "clue" and create some visual association for the kids to remember the list by, I've made a pronoun helps visual clue sheet. I hope it helps kick in that memory so they can remember which type of pronouns go to which!! Ok - maybe this is for me and not my kid! LOL
Another really great resource for teaching the pronouns this year is Mine, All Mine by Ruth Heller.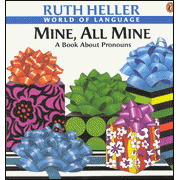 By Ruth Heller / Putnam Juvenile
Mine, All Mine What's a pronoun? How do you use it? Do you say "These candies are for him and me"-or "he and I? In this addition to her acclaimed language series, using rhythmic verse and stunningly rich illustrations, Ruth Heller shows young readers how playful language can really be.
A FREE fun resource for teaching Pronouns in greater detail to your smaller ones is available FREE at Teacher's Pay Teachers: